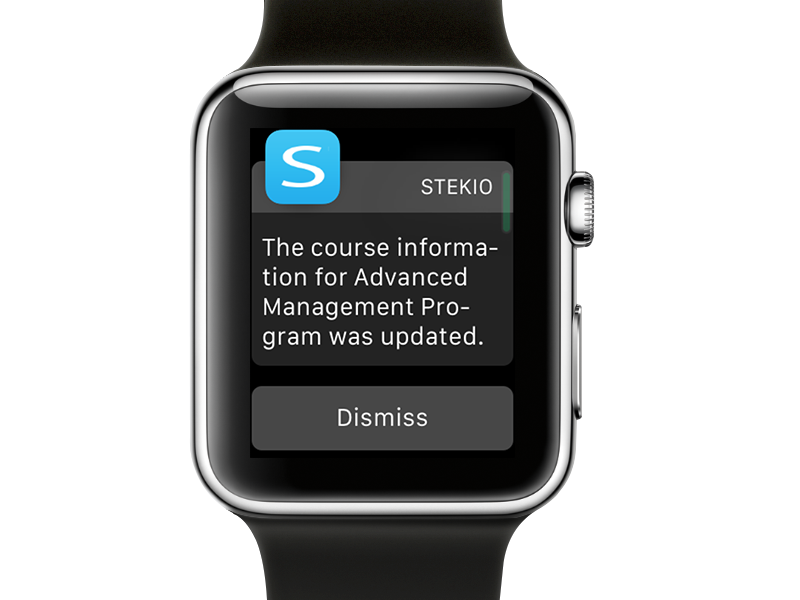 The Apple Watch is this year's must-have accessory for the on-the-go gadget hound – and by next year, we figure (given Apple's pretty decent sales track record and top brand name) it will be the must-have accessory for just about everyone. In keeping with our last couple of announcements on integrating STEKIO with the devices you're using every day, here's some news we're very proud of: you can now get notifications from STEKIO right on your Apple Watch!
We're especially proud that this is the very first learning engagement solution that's integrated with the Apple Watch. When we set out to develop STEKIO to champion superior learning experiences, the aim was to engage learners through the devices they are already using. With the ability to receive notifications over the Apple Watch, we're getting in, ahead of the game.
We've had plenty of feedback from our executive education-sector customers and convenience is definitely a big value. That's what this Apple Watch development is about. If you are in the middle of a meeting or social situation, it's easier to get away with an unobtrusive glance at your watch than side-scrolling on your iPad.  Early adopters of this device will be able to keep up with messages sent from teachers, students or administrators with a quick look at their wrist.
Enjoy STEKIO on your Apple Watch – one more way to hang out with us whenever you want.