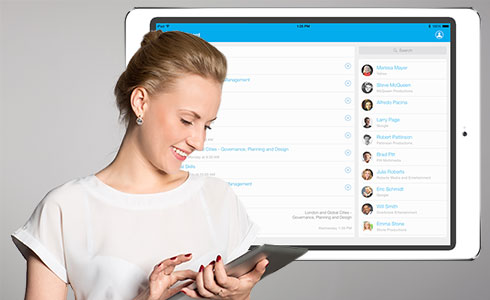 As the Google ChromeBook took a bite out of Apple's market share of the education market, we took a closer look at what's happening. While we're ultimately aiming to provide an experience that's platform-agnostic, iPads are still where we see Stekio providing value for corporate education administrators and learners alike. From what we can see, the overall K-12 school segment is an unreliable indicator for the business education and corporate learning segment; and it all comes down to how these devices are being used.
ChromeBooks and other competitors are making inroads thanks to cheaper pricing and the preferred use of physical keyboards (because apparently the directors of K-12 schools and districts can't quite seem to wrap their heads around the practicality of touchscreen keyboards – odd, but apparently it is a factor). Students at this level are writing book reports and short essays and developing charts, graphs and visual presentations for various classes. With that kind of workload, common-core or not, ChromeBooks can make sense – and if school districts are spending taxpayer dollars on thousands of machines at a go, then cost has to be a factor.
At the Business Education and Corporate Training level, we see a different set of needs among administrators and among learners as well. For this group, iPads are still the go-to device. Why?
Administrators Want to Manage Learners, Not Their Technology. No more worrying about deployment, patching and software packaging; that was what the helped iPad beat out laptops in a business and education setting. Now that may schools and companies have invested serious resources in supporting iPads for just those benefits, Apple products will retain their early-mover advantage for a while to come.
Businesses Use It. Just out last week, this confirmation of an ongoing trend: the iPad has 78 percent market share in the US enterprise market. Cementing that dominance: "In May 2014, Dimensional Research surveyed 309 IT professionals and found that more than nine out of 10 businesses support Apple devices."
Whether learners are getting their MBA or doing training courses on behalf of their firm, these students are already on iPad – or about to be. From a business continuity perspective, it just makes sense to give learners the tools that they know so they can hit the ground running.
Alumni Are Already On It. This ties in with the fact that iPad is still the go-to device for companies that use devices. Formal education programs at universities are constantly challenged to engage their alumni – and they need to go after these learners where they already live; on their iPads, both in and outside of work.
When we first launched Stekio, we did so with iPads in mind because the administrators of business education programs were already focused on them. By the time these administrators make the move to other devices and go along with a BYOD strategy, Stekio will be a multi-platform app. For now, iPads are where the business educators live – so that's where we are, too.