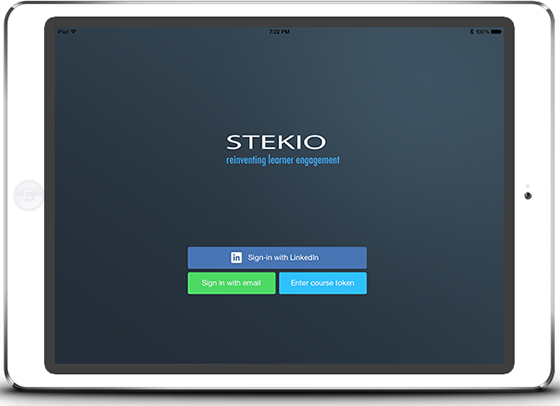 LinkedIn integration is an essential feature of onboarding through Stekio. When students get into the business program, they're instantly connected to each other's profiles through the app – LinkedIn Group or no LinkedIn Group.
Stekio is also their communication platform. It's what they'll use during the program – and after. Alumni engagement managers can instantly communicate with learners and also encourage communication and collaboration between learners.
"If it's what they're used to using when they're in the program, they'll be more likely to check out and respond to messages at any time," our demo client said in a recent briefing. "The trick is to build that relationship using the tools they're already comfortable using, not to force learners to troll LinkedIn Groups so that they'll be looking in the minute we have a message for them."
Stekio makes that connection of administrators and learners through LinkedIn automatic at the beginning of enrolment. That means administrators can communicate directly with learners, easily employing all of the usual tactics of alumni engagement without needing to corral learners into a LinkedIn Group and keep them there – the online equivalent of herding cats 24/7.
"It helps us save a step in LinkedIn engagement, which is an essential part of overall alumni engagement," our clients say. "Actually, it's a few steps: we get their details from LinkedIn into our database at the instant of onboarding and those credentials stay current because they're connected to LinkedIn. We're not constantly scrambling to keep up with their changes of location and where they end up after the course is over. Anything that makes it easier for us to communicate with learners – and for learners to communicate with each other, to help boost the overall power of our networks, has a lot of value for us."
Effective communication is the key to long-term engagement with business alumni – one more way we can help.