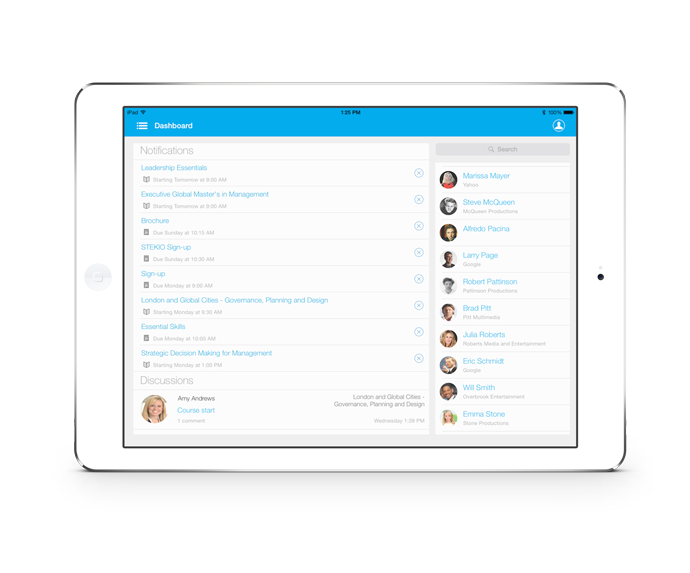 The collaborative education space is an exciting place to be for a startup. This is where big ideas and cutting-edge technologies are put to work in shaping the bright minds of this (and the next) generation. It's a space where we're still debating fundamentals like the end goal (Creating the visionaries of tomorrow? Producing folks who are really good at producing?) and how to really measure learning outcomes. We started up Stekio as a platform for administrators to make it easy to onboard learners and also improve collaboration and communication between students, before and after their programs were done – but a lot of thinking went into these big ideas of education before we ever wrote a line of code for our app.
Here are some interesting developments in the collaborative learning space that caught our eye this week:
You Are Asking The Wrong Questions About Education Technology (Forbes). A counter-intuitive column making the case that education bureaucracies slowing down technological change isn't necessarily a bad thing. We couldn't disagree more – but still, it's an interesting look at how the other side sees it, if only so we and other tech startups in the education sector can see the hurdles we face plainly.
Considerations for EdTech Purchases (Lisa Nielsen). An excellent roundup of what schools and colleges need to look at when purchasing new technology, considering total costs involved with the people, facilities and hardware you need to push things through. Lisa has also been named one of the USA's top 100 influential voices in education by the Academy of Education Arts and Sciences – a great thought leader to follow.
Going 1 to 1 with…Something (Around the Corner). Here we see the cost- benefits of BYOD management vs. just going out and buying tech for students. It's more for large school districts than for specialized business programs, but it's still good to actually see someone running numbers on this.
Colleges catch the startup wave (Globe & Mail). Technically, this is more an education story than a collaborative education story. Still, we're glad to see more institutions of higher learning recognizing the increasingly tech-dominated nature of the economy. Startups need entrepreneurial people and top talent – not just worker bees.
Struggle to teach students '21st century skills' when classroom technology isn't up to speed (National Post). While this story focuses on public high schools, this
is still a challenge (and opportunity for change) when it comes to the business education programs that we like to work with at universities and colleges across North America. It's time for administrators to take a more collaborative approach to education that looks beyond short term costs to long term value.
Do you write an education blog? Feel free to contact us about overcoming challenges in matching education goals and technology solutions.